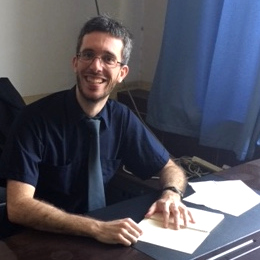 Bienvenue sur mon site personnel. Sur ces pages, je veux me présenter et montrer mes projets.
Welcome to my personal Website. On these pages, I'd like to present myself and my projects.
Willkommen auf meiner persönlichen Webseite. Hier möchte ich mich selbst sowie meine Projekte vorstellen.
Benvenuto sul mio sito personale.
你好
Qui suis-je : D'origine Suisse, j'habite au Québec depuis 2006. Je suis titulaire d'une Maîtrise et d'un Bachelor of Science en génie mécanique (École Polytechnique de Montréal, École Polytechnique Fédérale de Zurich). Après mes études, j'ai travaillé dans l'automatisation industrielle. J'ai eu la possibilité de participer à l'enseignement des cours informatiques pour ingénieurs à l'ÉTS et l'École Polytechnique. C'est durant ce temps que j'ai découvert ma passion pour l'éducation. J'ai donc décidé de m'inscrire dans un programme en pédagogie de l'enseignement supérieur de l'UQÀM (Université du Québec à Montréal). Depuis la complétion de ce programme en 2012, j'ai travaillé au Collège Vanier comme enseignant de physique.
About me: Originally from Switzerland, I moved to Canada in 2006. I have a Bachelor's and a Master's degree in mechanical engineering (Swiss Federal Institute of Technology, École Polytechnique de Montréal). I worked in the fields of control system automation and robotics. I have discovered my passion for education when I was a teaching assistant at École Polytechnique. After a few years in the automation industry, I decided to become a college teacher and completed a short program in post-secondary education at UQAM (Université du Québec à Montréal). Since 2012, I am teaching physics at Vanier College in Montreal, Canada.
Über mich: In der Schweiz aufgewachsen, lebe ich seit nun mehr als 10 Jahren in Kanada. Nach meiner Ausbildung in Maschinenbau (Bachelor ETH, Master Ecole Polytechnique de Montréal) habe ich im Bereich der Automation und Robotik gearbeitet. In meiner Zeit als Vorlesungs-Assistent habe ich meine Passion für den Lehrberuf gefunden und entschieden, eine pädagogische Weiterbildung (Université du Québec à Montréal) zu absolvieren. Seit 2012 unterrichte ich Physik am Vanier College in Montréal, Kanada.