RER Montreal
Have you been to Paris? Then you have surely enjoyed the RER (Regional Expess Network) that complements the cities Metro system. Now, if you are from Montreal, you have probably realized the resemblance of Montreal's Metro system with that of Paris. The only thing missing, the RER. This article presents a vision how the current AMT train network could be be improved to a full RER system at relatively low cost compared to other projects.
The vision - A full size RER system for Montreal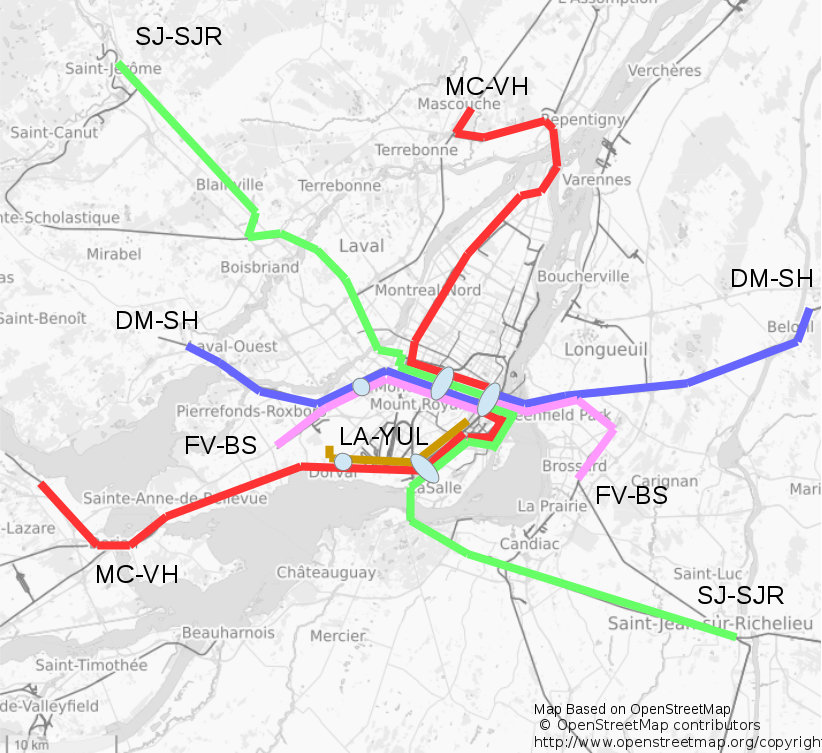 Deux-Montagnes - Saint-Hilaire (DM-SH)
Direct rush-hour trains between Deux-Montagnes and Saint-Hilaire using AMT's dual mode locomotives and multi-level cars: Direct North-South Link and solving the overcrowding during rush hour. No cost as all necessary equipment is already owned by AMT.
Additional station in Saint-Eustache, on the existing track north of the highway 640 to solve the parking issue in Deux-Montagnes.
Fairview-Brossard (FV-BS)
Using the Doney Spur to run trains between Fairview and Brossard: Further easing overcrowding on the Deux-Montagnes line and improving access to the West-Island.
Extension to Brossard on existing right of ways.
Mascouche-Vaudreuil/Hudson (MC-VH)
Rerouting of the Vaudreuil-line to Central Station.
Direct trains between the East and the West.
Airport Express / Train de l'Ouest (LA-YUL)
Construction of the few hundred meters of missing track between Dorval and the US-Terminal "Station" of the Airport.
Trains serving both, as airport link and commuter line (stops in Dorval and Montreal-West).
Saint-Jérôme - Saint-Jean-Sur-Richelieu (SJ-SJR)
Reconstruction of the curve linking Bois-de-Boulogne Station to Ahunsic Station to reroute the Saint-Jérôme line to Central Station.
Rerouting of the Saint-Constant line to Central Station
Connection of the two branches, providing another link between north and south shore.
Possible extension on existing right of ways to Saint-Jean-Sur-Richelieu.